The PhotoniQ line of high performance multi-channel data acquisition systems consists of high dynamic range and high speed versions from 2 channels up to 128 channels. These charge integrating DAQ systems include graphical user interface software and USB drivers that allow the unit to connect to a PC for real time collection and analysis of SiPM, PMT, and APD event data.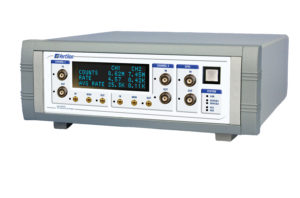 Vertilon pulse analyzers are high speed digital instruments that capture fast pulses from nuclear particle and event detectors. They measure intrinsic characteristics of the pulse that include shape, height, absolute time of arrival, and time of arrival difference. The Vertilon DPA201 two channel unit includes a full function graphical user interface to configure the instrument and display and log data.
Vertilon's high speed photon counting systems support direct connection of up to 64 individual SiPM, PMT or APD devices. These fully configurable products support adjustable counting thresholds and include advanced gating functions that operate at sub nanosecond resolution. The products include the graphical user interface software and USB drivers for real time collection of sensor data on a PC.